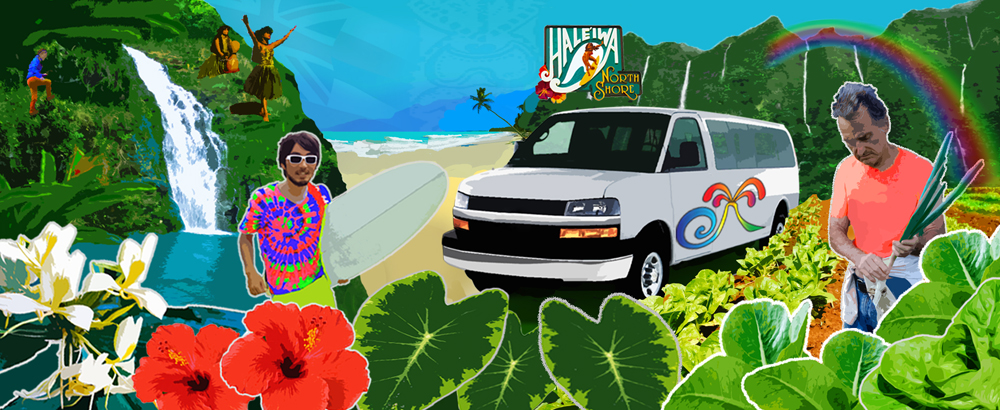 Private Custom Tour
See everything you want with those you love
This private charter tour is a wonderful way to get to know the island. Based on your interests, our local guides will suggest places and work with you to create an itinerary that you'll love.
As this is a customized tour, you decide where to go. Whether you enjoy a fast pace tour, visiting as many landmarks as possible, or a more relaxed tour that provides plenty of leisure time, we can accommodate your style. You have the flexibility to travel off the beaten path and really get a feel for island living.
This tour is strongly recommend to those traveling with family, friends, or organization groups. This is a private tour, which means it's just for your group. This provides for an opportunity for everyone in your group to bond and make lasting memories.
While on vacation, spend quality time together by leaving the driving to us! Ride in our spacious van, exactly what you need to explore the island comfortably.
Maximum capacity: 10 passengers
Tour Duration: anywhere from 3 to 15 hours depending on your interests
Price: $50 per hour

Sample Tour
It was the first time for Kubota and her friends to visit Hawaii. They were interested in seeing the North Shore and tasting new foods. They had a blast spending the day with their guide! View pictures from their tour and read their comments below.
Pick-up at Hotel 8:30AM
Drop-off at Hotel 9:30PM
Total tour: 13 hours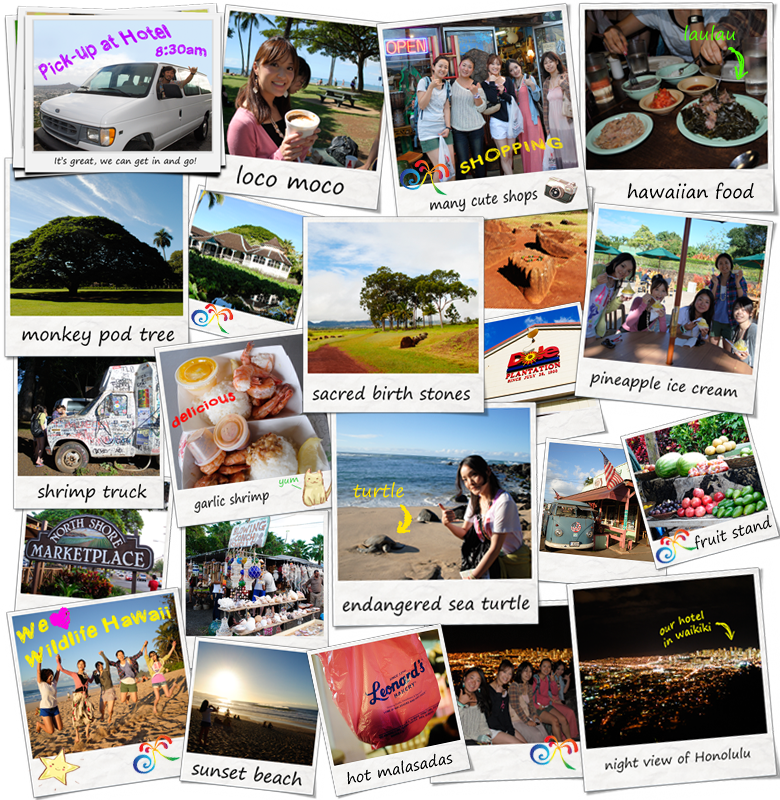 I had a great time! The tour guide was a pleasure to have. I would definitely recommend Wildlife Hawaii to friends. The night view of Honolulu was beautiful. I enjoyed eating at the beach. The food was delicious. Thank you so much!    
– Sumiya
I recommend this tour! Watching the sunset at Sunset beach was extremely beautiful. I really liked the guide's suggestions and how they incorporated all the things we wanted to do. Wildlife Hawaii was very accommodating to our  requests.  By being picked-up at places other than our hotel, it allowed us to use our time efficiently.  
– Sasahara
Thanks to Wildlife Hawaii we were able to have a wonderful trip. It was really easy because even though it was my first time to Hawaii and I don't know anything about the place. Wildlife Hawaii picked us up and dropped us off and I was able to just ride and talk with my friends. Before you know it, we arrived at a new place. Yamato and Masa are very easy going and easy to talk to. It felt like I was traveling with friends. Since Yamato is from Oahu, her detailed explanations about Hawaii's history and political problems was educational. The night view was amazing, I've never seen anything like it before. It was fun eating Hawaiian food and visiting local shops, things we wouldn't have done on our own. Thanks to the two of them, we were able to eat all the foods we wanted to try, it was an excellent vacation! Thank you so much!
– Adachi
As a fist time visitor, having a custom tour was especially beneficial. Even though it was my first time travelling internationally, I was able to feel safe and have fun. It was relaxing eating at the beach. I'm going to make the sunset my screen saver on my computer. Seeing a turtle on the beach up close was beautiful. The night view was amazing, you can't see pretty lights like that in Tokyo. Even though we had very little time, there were many things we requested to see and eat. I'm very happy to have been able to see most of Hawaii's famous landmarks during such a short trip. Thank you so much!  I'm not able to sum up my vacation really well because everything left such a lasting impression on me. Being able to visit places that were on TV and in books,  it was a vacation that we were able to enjoy to its fullest! Thank you very much!
– Kubota